with Lynn Kuo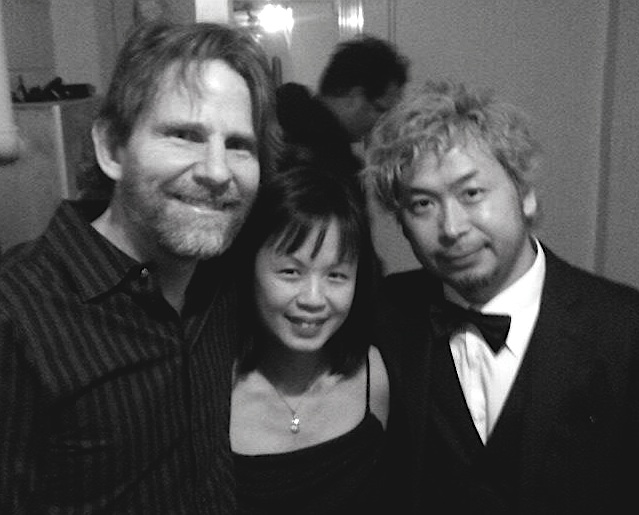 Performed live painting with violinist Lynn Kuo, featuring original composition Interior Design for solo violin by Steven Mackey, at University of Toronto New Music Festival on January 26 2013.
A native of St. John's, Newfoundland and Labrador, violinist Lynn Kuo has appeared as soloist, recitalist, and chamber musician across Canada, United States, Wales, Austria, Hungary, Serbia, Croatia, Bulgaria, Romania, and Ukraine. As guest soloist, she has performed with the Quebec Symphony Orchestra, Newfoundland Symphony Orchestra, Thirteen Strings (Ottawa), Canadian Sinfonietta, Brandon Chamber Players, Nexus percussion ensemble, Orpheus Chamber Orchestra (Bulgaria), Cantus Ensemble (Croatia), Lviv Philharmonic (Ukraine), and as special guest soloist with Hungary's gypsy orchestra, Rajkó Band.
In demand as an interpreter of new music, Lynn has given numerous world premieres of acoustic and electroacoustic solo and chamber works written for her and various ensembles. International composers have included Constantine Caravassilis, Daniel Foley, Scott Godin, James Harley, Alice Ho, John Oliver, Dennis Patrick, Michael Pepa (six works), Elizabeth Raum, Avalon Rusk (Canada), Séan Clancy (Ireland), Katarina Miljković (Serbia/USA), and Viktorija Ćop (Croatia). Most recently in 2012, Lynn, joined by Marianna Humetska, piano; Anna Guo, yangqin; and Ottawa's Thirteen Strings (directed by Kevin Mallon), gave the world premiere of 'Si Yi – The Four Arts,' a commissioned work by Alice Ho for violin, piano, yangqin, and string orchestra.
Lynn continues to collaborate with leading artists, having performed solo and chamber works with such artists as pianist/conductor Christoph Eschenbach at the Schleswig-Holstein Music Festival (Germany), the Gryphon Trio at the Ottawa Chamber Music Festival, Lori Freedman (clarinet) at the soundaXis Festival (Toronto), cellist Winona Zelenka, Vancouver guitarist/composer, John Oliver (as Duo Vita), pianist William Aide, and with other eminent artists at the University of Toronto New Music Festival, and Music Biennale Zagreb Festival (Croatia).
Maintaining a busy performance schedule, Lynn also performs as leader of Toronto's Les AMIS Ensemble and has led the Ensemble in four past European tours. Her performances have since been broadcast on Canadian, Serbian, and Hungarian television and radio. In 2010, Lynn recorded the music of Nino Rota with pianist Mary Kenedi for the NAXOS recording label, to be released in 2013. With Ukrainian Canadian pianist Marianna Humetska, Lynn also performs as Duo Les AMIS, who will be recording their debut CD, 'LOVE: Innocence, Obsession, Passion', in 2012-13 with the assistance of FACTOR. Based in Toronto, Lynn is the Assistant Concertmaster of the National Ballet of Canada Orchestra, in addition to performing with the Canadian Opera Company, and the Toronto Symphony Orchestra. Lynn has also performed as guest concertmaster of orchestras that have included the National Arts Centre Orchestra and has also served as adjudicator, guest artist, teacher, and lecturer at Canadian festivals and universities. Lynn completed her Doctor of Musical Arts at the University of Toronto dedicating her research to the subject of holistic health and injury prevention in orchestral string musicians.