Fencer vs. Samurai
"In the name of our swords, we paint each other till one of us stops moving!"
In this street fight style performance, a Fencer/former student Nils Fischer fights and paints with a Samurai/his former mentor Daisuke Takeya. Inspired by contemporary Japanese manga and Abstract Expressionism or Action Painting, Fencer vs. Samurai creates an intense and whimsical momentum via KARATE KID tradition. The mixture of Western and Eastern sword fight action sends a positive message to the audience that art can solve disagreements/differences and creates only peace at the end, and teacher/student friendship lasts infinitely.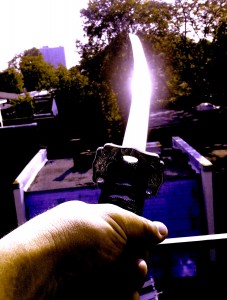 Fencer vs. Samurai was premiered on July 23, 2011, as one of Bloor Alternative Art Fair (BAAF)'s off-table projects coordinated by Johnson Ngo. Included performances are by: Adriana Disman, Julian Higuerey Nunez, and Daisuke Takeya and Nils Fischer.
Nils Fischer is currently a BFA candidate at the OCAD University in Toronto. The artistic experiment of combining painting and fencing, two mediums he loves the most, started in his second year. After seven years of competitive experience as a fencer and long time interest for painting since his childhood merged with the use of the warriors screaming soul as a performative painting. He is a former student of Daisuke at La Citadelle International Academy of Arts and Science.
The coordinator of BAAF, Johnson Ngo was featured in "A simple and refreshingly democratic street festival,"  an article by R.M. VAUGHAN for The Globe and Mail, July 22, 2011